Founded in 2007, Beyond All Boundaries International believes that by creating environments that foster education, life skills, and spiritual growth people will be empowered to live beyond their current situations and circumstances. We are a 501 (c) 3 nonprofit organization.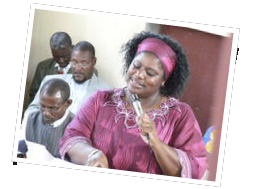 About Our Founder
Audrey Boatwright has more than 10 years of experience in the nonprofit arena. While she has managed, directed and supported various projects in several countries, including Trinidad and Israel, as well as outreaches to the African Continent, her heart's desire is to EMPOWER the PEOPLE of HAITI.
During Audrey's first mission trip to Haiti in January 1998, she sensed the call to return and help the people. In her own words Audrey shares, "You either LOVE Haiti or you don't. " It is evident that she LOVES Haiti. In May of 1999, she accepted the call of God to serve in Haiti, under the tutelage of Mother Vera Boudreaux, and with the full support of her Pastor.
Audrey believes that if we EMPOWER people to live they will be EMPOWERED to give… of their time, gifts, talents, and resources becoming viable and productive individuals in their own families, communities, country, and the lives of others.
SHARING CHRISTMAS WITH THE CHILDREN OF HAITI
WILL YOU BE AN ANGEL FOR HAITI? Please consider sponsoring a backpack (or two or three!) to make this Christmas very special for the children of Haiti. Each backpack costs $12 dollars and we are in need of sponsors to help make this event possible.
We are Hosting a SPECIAL CHRISTMAS OUTREACH TO HAITI. Our team will be traveling to Gonaives, Haiti in December. During this time we will be conducting Christmas Programs for 3 different church/school communities. Our programs will be festive events filled with Worship, Fun, Food, and the Miraculous Story of Christ's birth. Just as the angels joyfully announced Jesus' birth to the shepherds in the field that very first Christmas Day, we are so excited to share the good news with the children of Haiti!
Each of the 500 plus children attending the Christmas Programs will receive a beautiful gift-filled backpack.
Each backpack will contain essential school supplies, snacks, toys, and a very special Christmas Coloring Book created by the Orchard Youth. We need your help to fill these backpacks.
Please make your donations
By mail: Beyond All Boundaries/Angels for Haiti, P.O. Box 6262 Columbia, Maryland 21045
For additional information call 410-707-5875